uDirect Studio Tutorial (Geburtstagstorte) v11.x (Deutsch)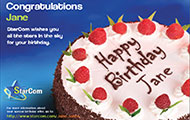 Overview
In diesem Tutorial lernen Sie die grundlegenden uDirect-, uImage- und uChart-Funktionen kennen, indem Sie eine Geburtstags-Werbepostkarte für Kunden eines Mobilfunkunternehmens erstellen.
Aims and Objectives
Dieses Tutorial stellt die Grundfunktionen von uDirect, uImage und uChart vor.
Prerequisites
• InDesign and Photoshop CC2021 or later,
• Basic InDesign and Photoshop skills, and
• uDirect Studio
Recommended XMPie version
v11
Usage
This tutorial has been downloaded 20 times.